What is Tool Share?
Tool Share is a project run by Transition that helps local residents as well as University students and staff share and maintain tools together. Tool Share works just like a library. You can borrow tools and equipment (including DIY, kitchen and garden) instead of having to buy them. It costs £15 to join for one year.
View tools online.
Create an account on MyTurn and pay to become a member.
Reserve tools by Tuesday to ensure they are available for you to collect on Thursday.
You can loan up to 5 tools for a 13 day period. Tools can be renewed twice.
We will send you a message notifying you that your tools are ready for collection. The message includes locations, locker number and lock code.
Return your tools to the same locker.

We are moving away from a face-to-face system – with lockers at the Student's Union and North East Fife Community Hub – to give you more flexibility and accessibility. After you reservation is confirmed, you will receive an email detailing a locker number and lock code. Over the duration of the loan the same locker will remain empty so you can return your tool(s) using the same lock code.
See what power tools, hand tools, garden equipment and kitchen appliances are available for loaning. The long list includes a PA system, pizza oven, gazebo and beach chairs!
When signing up please make sure you select the Tool Share membership to be eligible for loaning tools.
We are looking for people to get involved in other ways too. You can simply donate tools or volunteer to help with tool maintenance and lending. See the Get Involved page for other volunteer opportunities.
Locations
The two locker locations for remote pick ups are: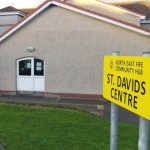 North East Fife Comunity Hub
Down at the St David's Centre, Albany Park, you can find 6 lockers and one large locker to the left of the building's front entrance.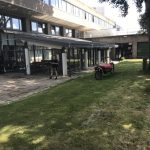 Student's Union
There are 6 lockers situated behind the Student's Union which you can access by walking the path to the left of the Union shop.