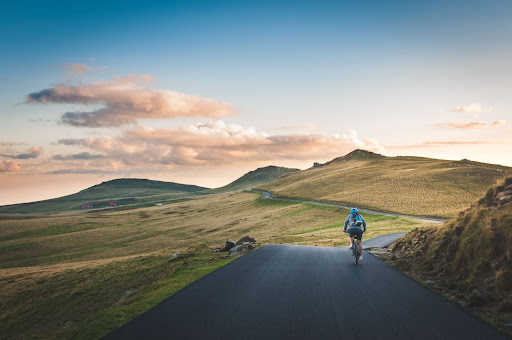 Photo by David Marcu on Unsplash
Cycling is an amazing way to get out and about. It's fun, and once you've got past the initial expense of buying a bike, it's relatively cheap. You can go further than if you were walking, and it's much more environmentally friendly to cycle than get in your car, making it the perfect method of transport for you to explore the world around you. 
Scotland is full of stunning bike routes that let you discover hidden gems, and if you're lucky enough to be living along the east coast, many of the very best are easily accessible. From the countryside to the city, you're sure to find something that you enjoy, whether that's solo or with a group of friends. An e-bike can make the journey far more pleasurable, allowing you to pedal along without working up too much of a sweat, so that you can explore your destinations. 
Here, we take a look at three of the best cycle routes on the east coast of Scotland – make sure to pack a picnic, because you're sure to want to stay a while. 
North Berwick to Dunbar
This 24km route will take you around 2.5 hours to complete, making it perfect for a leisurely cycle with stops to extend your trip. To get there from St Andrews, take the train to North Berwick train station, and then once you're done, you can take the train back again from Dunbar.
There are some sections of incline, but your e-bike will be able to help here, pushing you to the top so that you can enjoy the views. This path can also be done as a walking route, so if you want to, cycle part of the way, lock your bike up securely, and head off on a hike before cycling home.
Devilla Forest
Devilla Forest, near Fife, is perfect for those who want to get in the saddle from the comfort of a safe starting point. There are so many routes to choose from, so you can just select the perfect option for you based on the amount of time that you have. To get there, take the bus from St Andrews to Kincardine, then either hop on a local bus to get a bit closer, or cycle to the main car parks. It's not the easiest to get to, but it's worth the trip.
The Scots Pines tower above you and create plenty of shade, whilst red squirrels run around the forest. There are also four lochs that are home to pretty dragonflies and mischievous otters. The ground can get a bit muddy and the paths are sometimes a little on the wild side, so make sure to wear suitable clothing – this one is best for mountain bikers, rather than thin-tyred road bikes.
Loch Leven Heritage Trail
Loch Leven is home to a huge range of birds, and is known as one of the best places in Europe to watch wildfowl. Cycle the 21km of trails around the loch estate – including the Heritage Trail, which is perfect for cyclists of all ages and abilities. If you're cycling with children, pack some crayons and paper, and look out for the brass rubbing posts featuring Tufty the Duck and his friends. 
If you're feeling extra adventurous, why not take a paddleboard or kayak out on the water afterwards in order to cool off? Just note that this won't be possible between September and March, in order to protect the birds that have made the loch their home.
To get to this natural beauty, take the bus to Welltree Junction on the A914, and then grab a connecting bus to Milnathort, before finishing off with a walk.