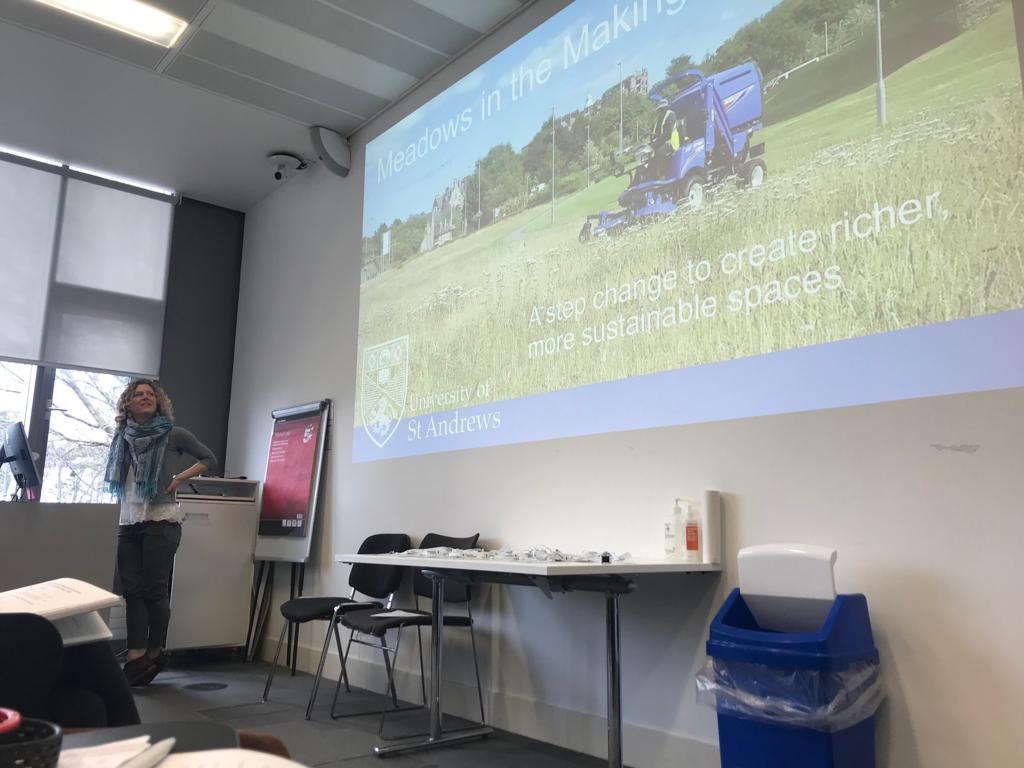 University Hosts Nature Restoration Skills Conference Highlighting 'Meadows in the Making'
The University were delighted to be invited to host a Scottish conference on creating nature-positive grasslands, and feature the Meadows in the Making project.
As part of NatureScot's Nature Restoration Skills week from 13-17 March, the day focused on sharing people's experiences and knowledge of how we can change grassland management to create more sustainable, biodiverse spaces. Aimed at practitioners, nearly 60 delegates from local authorities, community groups, statutory and voluntary organisations attended.
Amenity grassland has little value for wildlife, and requires up to 16 cuts in the growing season. Not to mention that we have lost 97% of our flower-rich grasslands in the UK in the last century. Meadow management, on the other hand, requires one or two cuts each year with a 'cut-and-collect' machine. This removes nutrients from the ground over time and enables wildflowers to flourish, creating rich spaces for both people and wildlife to enjoy.
The conference was organised by Butterfly Conservation's Dr Philip Sterling, who in 2020 inspired and advised our initiative to create meadows on the University estate. He demonstrated how simple changes in grassland management can benefit wildlife while reducing fuel consumption and staff costs.
Speakers included Scottish Wildlife Trust on their Irvine to Girvan Nectar Network, demonstrating the value of this habitat for our declining pollinators as well as local people. Neighbouring land manager SRUC Elmwood also spoke of their journey to create vibrant grassland on Elmwood Golf Course.
Meadows in the Making is a collaborative effort between the University of St Andrews' Grounds and Environment Teams, as well as other partners including Fife Council, Fife Coast and Countryside Trust, and St Andrews Botanic Garden. A year of grant funding from NatureScot Biodiversity Challenge Fund helped facilitate an important step change in land management on the University estate.
Ecological Projects Manager, Johanna Willi, spoke of the outputs so far – including 5 hectares of new meadow habitat at 17 locations – and how these help the University meet strategic objectives to be Net Zero, Nature Positive and Climate Adaptive by 2035. Engagement has been a further project highlight, with 971 students, staff and local residents taking part in 87 practical sessions since July 2021. This also included other habitat creation work such as tree planting.
The conference concluded with site visits to some of the University's developing meadows at North Haugh and Gateway. Delegates met with Practical Conservation Worker, Stephen Paul, and were able to discuss good practice and operational matters.
We hope that the day inspired others to adopt more nature-friendly grassland management. Collectively, these nature-based solutions can make a real difference in the climate and nature emergencies.