#Unpallatable – Campaigning for Care of our Beaches
Bonfires and barbecues on St Andrews beaches are a sort of right of passage during a student's time here. Especially at times of the year, like Fresher's Week, May Dip and Bonfire Night, you can see a trail of flickering fires in the dark scattered from end to end. By using pallet wood bonfires can sadly have a negative side too. Including burning embers and sharp nails hidden in the sand, the aftermath is a risk for people, pets and wildlife.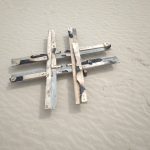 In recent weeks, the Fife Coast and Countryside Trust have started a campaign using the hashtag #unpallatable to start raising awareness across Fife. The aim is to create a strong social media presence filled with videos, photos, and messages, as well as create pallet art installations on beaches.
Supporting this, Transition is running a workshop writing #unpallatable and drawing on a physical hashtag made of pallet wood using the Tool Share's pyrography kits.
If you are interested in taking part, book a space: https://transitionsta.org/event/unpallatable-pyrography-art/