By Isabelle Low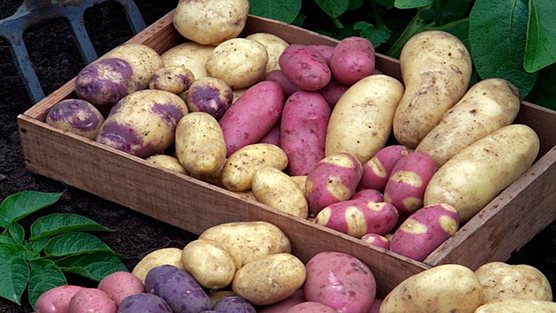 Lots of potatoes being lifted this month in our Edible Campus gardens. To keep them fresh for as long as possible, clean off as much soil as you can, and let them dry off completely. Then store somewhere dry and dark and cold.
Potatoes come in 3 groups: first earlies (small and tasty and ready by June or July); second earlies (a bit bigger and ready over the summer); and maincrop (the biggest and ready to lift in the autumn). At Edible Campus we mostly grow maincrops, so that they are there when students are.
Potatoes come from the high Andes in South America: they were the mainstay of the Incan diet and first came to Europe via returning conquistadores. They were regarded with much suspicion as being misshaped and likely to cause leprosy. But by the 1740s they became the crop of last resort to stave off famine, first in Germany and then gradually throughout Europe. Most notably, they for a time became the mainstay crop in Ireland, until potato blight arrived from America in 1845 and devastated the population.
But how to use them all? Here are my suggestions:
As baked potatoes: my all-time favourite comfort food! Rub a little oil over the skin and prick so that it doesn't explode and bake (in the microwave if you are pushed for time but in a main oven will produce a far better flavour and crisped skin). My favourite filling is 5 bean chilli (with lots of root veg in the mix) but, if short of time, grated cheese with homemade apple chutney. Serve with lots of green veg or home made coleslaw on the side for a balanced meal
As stovies: when I was a child, Monday was washing day and we always had stovies for lunch. Sliced potatoes and onions stewed slowly with a tiny amount of water and fat (traditionally lard but I use butter). Traditionally also the remnants of the Sunday roast would be added but as a vegetarian I add mushrooms instead. Again with a lot of greens
As masala dosa: millions of Indians have this as a packed lunch every day. I often do too. The filling is made with whole mustard seeds cooked until they pop (or you can add some mustard paste later); chopped onions cooked until soft, then add chopped chillies and chopped root ginger and ground turmeric. Add the chopped potatoes (I usually add, a bit later, frozen peas and sometimes spinach too) and cook until done. (You can vary the spicing and the veg.) It's fun to make dosas from scratch, but mostly I use wholemeal pitta to stuff the mix into
As the traditional German favourite Himmel und Erde ie heavenly apples combined with earthbound potatoes. It makes a tasty alternative to plain mashed potato: just stew an equal quantity of apples at the same time as you are boiling the potatoes; mash both (I like them still with a bit of texture but make both entirely smooth if that's your preference); mix loosely together with butter so that the two elements retain their distinctiveness. Amaze your friends with this!
All these vegetables are currently available from an Edible Campus garden near you.